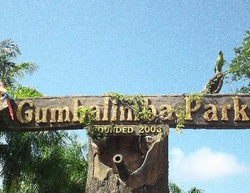 The Gumbalimba Park
and Zip Line canopy tour is about 300yrds down the beach toward West End from
Bite on the Beach.
A cold drink and a great lunch is a terrific way to top off your day at the park.
A great plan for one of your precious days on Roatan is: a morning at the park, Lunch at the Bite on the Beach and an afternoon snorkeling and sun bathing in West Bay. This will surely be one of the highlights of your vacation.
Dinner and the Eel Show at Bite on the Beach is the only thing that can improve the day!
---
The calm clear water off the deck of Bite on the Beach provides some of the best snorkeling on the Island.
On busy Cruise ship days when the resorts rent lawn chairs by the hundreds we can guarantee the best snorkeling is directly out front. Yes the 100's of cruise visitors scare every fish, turtle and sea creature up the beach creating a memorable snorkeling day.
---